New Omnifit® EZ Chromatography Columns are Available for Every Format You Need
Designed to Optimize the Selection of the Perfect Column for your Application
Arcmed® has expanded our glass chromatography column offering. The established Omnifit® brand of chromatography labware components has launched even more sizes of EZ Columns designed to optimize the performance of your resins and improve the resolution of your separations.
Omnifit has continued to be a trusted chromatography and accessory manufacturer for over 50 years. Since 1973, our labware offering has grown to include a full suite of chromatography columns and accessories, including fittings, bottle caps, and manual valves.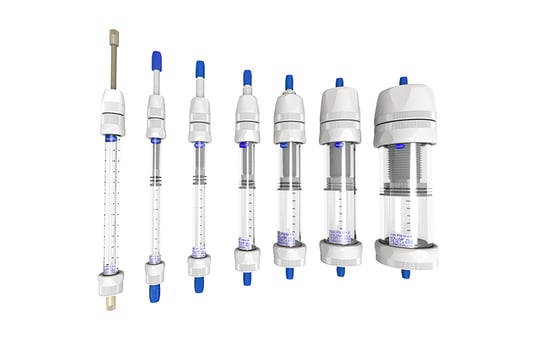 Our EZ columns range has been expanded to include four new lengths of 60mm, 190mm, 350mm and 640mm. They are designed and built with the same expertise and precision as the existing column range, and include an adjustable end fitting to accommodate a wide variety applications, resins, medias, and bed height adjustments.
The expanded range of liquid chromatography EZ glass columns provide a simpler solution to your demanding biotechnology and drug development applications.
Laboratory customers can order columns through our website and our global distribution partners. Contact us today to secure your order of high-performance chromatography columns.
EZ Chromatography Columns for Superior Laboratory Performance
Omnifit EZ chromatography columns demonstrate superior performance against competitive options due to their design precision, improved flow characteristics, excellent reproducibility, enhanced inertness and biocompatibility, and overall ease of use.
User Friendly Design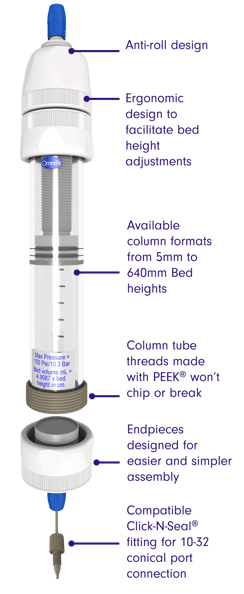 Researchers have often used two adjustable adaptors, one at each end of a chromatography column, in order to achieve their desired column lengths. However, this practice reduces column performance leading to band broadening challenges. The new EZ column lengths, couple with a single adaptor, enables the researcher to select the optimal column length to minimize these challenges and improve the overall quality of your separations.
Improved Flow Characteristics and Excellent Reproducibility
Omnifit EZ glass chromatography columns provide laboratories superior flexibility and reproducibility for all resins and medias, including soft gels types.
The precision design of Omnifit columns enables you to work at maximum capacities that are difficult to achieve with alternative column options. The robus and reliable Omnifit EZ column range incorporate end fittings and adapters designed for an even flow across the head of the resin bed. You can be confident that packed Omnifit EZ columns will optimize the performance of even the most difficult resins and media. Omnifit EZ columns are the ideal starting point if you plan to pack and run resins or media which you have developed or derived in your laboratory.
A direct comparison study performed by an independent third party† found that manually packed Omnifit columns demonstrated reproducibility within +/- 3% of machine-packed columns, which were used as the reference standard for this study.
| | | |
| --- | --- | --- |
| | Omnifit® Column | Competitor Column |
| 10% Breakthrough Capacity | Excellent reproducibility and low levels of variability between different packings and operators | Poor reproducibility and a high level of variability between different packings and operators |
| Overall Dynamic Binding Capacity | Allow users to gain the maximum capacity at laboratory scale | Up to a 25% drop in capacity that could have dramatic effect on resin screen evaluations |
Summary of findings from a direct comparison study on Laboratory Scale Columns performed by an independent third party†
Designed For All Your Low and Medium Pressure Gel Chromatography Applications
Omnifit EZ glass columns are designed for use in low pressure and medium pressure, laboratory scale, liquid chromatography applications. Our columns are compatible with all FPLC type systems, including ÄKTA® (Cytiva®) and NGC (Bio-Rad®) systems, or any standalone pump and gravity flow.
Our columns are designed for aqueous systems and compatible with solvents used in most common applications including but not limited to gel permeation chromatography (GPC), gel filtration chromatography, ion exchange chromatography (IEC/IEX), biomolecular separations, preparation and purification of proteins, peptide separations, affinity chromatography, ligand chromatography, and tag chromatography.
The EZ columns are similarly suitable for polymer purification and analysis applications. The inert columns range can also be used for organic solvent eluent applications.
Customers can purchase columns through our website and our global distribution partners. We also welcome private label inquiries and custom column services to serve our trusted OEM customers. Contact us today to secure your order of high-performance chromatography columns.
Footnotes
† Purolite (Aug 2021) Laboratory Scale Columns for Performance Screening, Available at: https://www.purolite.com/es/dam/jcr:7b8b445b-01c7-403d-b221-5c916cbc4d51/Laboratory%20Scale%20Columns%20for%20Performance%20Screening%2009%202021.pdf

Omnifit® and Arcmed® are registered trademarks of Diba Industries Inc. d/b/a Arcmed.
ÄKTA® and Cytiva® are registered trademarks of Cytiva Sweden AB.
Bio-Rad® is a registered trademark of Bio-Rad Laboratories, Inc